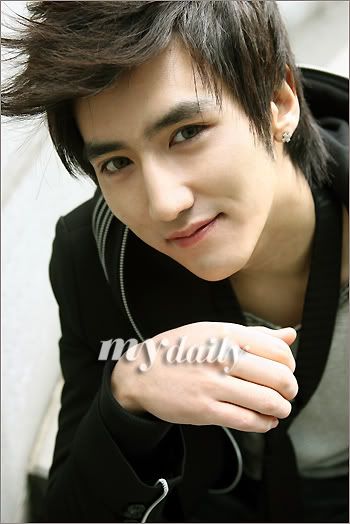 EVAN
nació el 8 de Diciembre de 1983 , es un cantante coreano , el cual fue miembro del grupo Click-B.
Él dejó(abandonó) el grupo para estudiar lejos de Asia (parece que EE.UU) , pero volvió como solista bajo el nombre de Evan . Él desde entonces ha liberado dos álbumes: Hard to Breathe y Pain Reliever, su primer y segundo álbum respectivamente, bajo la compañia de
TN Entertainment (bajo la formación del miembro Tony An de H.O.T).
Profile
Stage Nombre : EVAN
Nombre real : Yoo Ho-suk
Hangul: 유호석
Hanja: 劉昊奭
Revised Romanization: Yu Ho-seok
McCune-Reischauer: Yu Ho-sŏk
Apodos : Principe del Espejo (거울왕자), Prince Yoo (프린스유), Hoshikkee
Tipo de Sangre : O
Altura : 177 cm
Peso : 58 Kg
Familia: Padres , Hermana mayor
Religión : Ateo
Debut: 1999 - la empresa se acercó él durante un viaje de estudios de la escuela, entonces él hizo una audición. (con Click-B)
Debut Solista: 15 de Marzo del 2007 (M!Countdown)
Educacion: Inha University (Business Administration Major)
Discografía
(Album)
Hard To Breath
[13 Marzo 2007 ]
Genero: Pop, RnB
Compañia Record: Tn Entertainment (Tony Ahn)
01. Intro
02. This song
03. 남자도...어쩔 수 없다 /Men...are also helpless (mv)
04. Eternal sunshine
05. 사랑은...
06. 반 (半)
07. 날 위로하지 않는 밤
08. 위로 (Such A Good Place)
09. Overcome
10. Where is your heart
11. All about your love
12. Always in my head
13. 우리 이쩌면 만약에...
Download
(Album)
Pain Believer vol.2
[25 de Marzo 2008]
Género: Pop, RnB
Compañia Record: Loen Entertainment
01 . 울어도 괜찮아
02 . Still Got the Blues
03 . 이젠...(Since 1992)
04 . Kick Ass Song
05 . 왜?
06 . Let it Rain
07 . 손 끝이 아픈 이유
08 . Taxi Driver
09 . I Still Cry
10 . Love Is Gone
11 . 왜?(Instrument Ver.)-guitar solo
12 . 이젠(Instrument Ver.)
Download



(Mini Album) Sense & Sensibility


[16 de Abril ,2009]

Compañia Record: Loen Entertainment


01 . 머리와 심장이 싸우다...
02 . 시간을 달리는 소년
03 . 세상의 끝에서...
04 . 메아리
05 . 세상의 끝에서- Acoustic. ver'
06 . 머리와 심장이 싸우다- Inst' ver'
Download



(Digital Single) Stupid Yoo Ho Suk



01. 바보 유호석
Download
Videografía:
[MV] Stupid Yoo Ho Suk
[MV] Evan (Hosuk) ft Sol Flower - 울어도 괜찮아
[MV] Struggle of the Mind and Heart
[MV] Men.. Are Also Helpless
[MV] 내게와 MV (vocal - 유호석), rap_우연석)